Have you heard about our October Food Drive?
October 22, 2018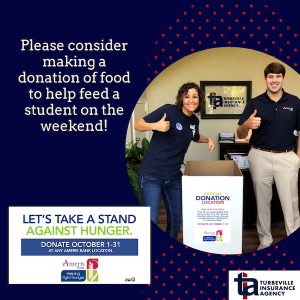 This October we are participating with Ameris Bank in a food drive called the Palmetto Project Weekend Backpack Program. This program helps feed homeless children in Richland County over the weekends when they are not able to get meals at school. By donating single serving items like instant oatmeal or fruit cups, you are helping fill the gap by providing food to children at risk of weekend hunger. How does it work? Every Friday afternoon, teachers discreetly distribute snack packs to at risk kids before they leave for the weekend.
How can you help?
All you need to do is purchase food items and drop them off at the box in our lobby. Some suggested items include macaroni and cheese, Chef Boyardee, fruit cups, granola bars, cereal, juice/milk boxes, fruit snacks and crackers. These are just some recommendations of items that are easy to put in a child's backpack on Fridays. Any single serving size item that is easy for a student to prepare would be great to donate.
Please consider making a food donation today to help feed a student.
You can drop food off at our office in Columbia:
Monday-Friday 8:30am-5pm.
Turbeville Insurance Agency
2718 Middleburg Dr.
Columbia, SC 29204
For more information, please call Palmetto Project at (803) 779-4875 or email nkilloy@palmettoproject.org
501©(3) Tax ID# 57-0807801 – all contributions are tax-deductible.